Hydrotherapy
Hydrotherapy is a treatment technique which involves exercising in warm water in a purpose-built hydrotherapy pool which is heated ideally to a temperature of around 34C. Hydrotherapy is held as a group session where there may be up to eight people in the pool but each person will be working on their own individual exercise programme.

A patient is given a specific pool-based exercise programme by the physiotherapist, based on a thorough assessment and this programme is regularly checked by the physiotherapist and modified where appropriate. The physiotherapist is in the hydrotherapy pool with you at all times.

We run our hydrotherapy sessions out of the Dandenong Oasis hydrotherapy pool (see below for details).

The main benefits of hydrotherapy are that it allows you to begin gentle exercises soon after an injury, increasing your rate of recovery and reducing the overall length of your rehabilitation. This is especially useful for those recovering from surgery or a fracture.

It is also a fantastic way of managing chronic pain associated with arthritis as the warmth of the water helps to reduce pain, while the water itself reduces load on the painful joint(s).

Hydrotherapy Class details:
When:

Tuesday: 1:00pm - 1:30pm
Thursday: 1:30pm - 2:00pm

Where: Dandenong Oasis, Cleeland St., Dandenong
What to bring: Bathers/Swim wear, Towel, Drink bottle, Slip on shoes


Dandenong Oasis YMCA:

Our hydrotherapy services are based at Dandenong Oasis. For more information on Dandenong Oasis please see -
www.dandenongoasis.com.au/participate/swimming-pool-aquatics/hydrotherapy.html

For more information on whether hydrotherapy may be an option for you, please feel free to contact one of our physiotherapists to discuss.



For more information on the conditions we treat and services we offer, or to book an appointment please call (03)9790 4266 or email: info@think-physio.com.au

↑ Back to Top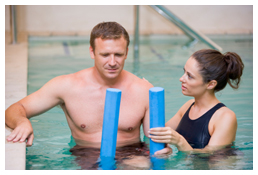 We are a preferred provider for MediBank Private and BUPA clients, meaning patients with these private health funds will receive discounts at our clinic
We treat...
Sports injuries
Back & neck pain
Joint pain
Surgery Rehabilitation